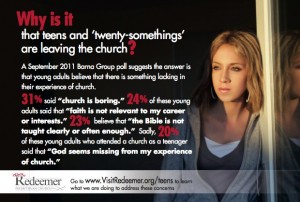 Why is it that teens and twenty-somethings are leaving the church?
Well, at Redeemer Presbyterian Church, we believe that a major contributing factor to the grim statistics reported by the 2011 Barna Group poll is that many churches are not consistently teaching that the Word of God applies to all of life.
The Apostle Paul wrote that the Bible is "profitable for doctrine, for reproof, for correction, for instruction in righteousness, that the man of God may be complete, thoroughly equipped for every good work" (2 Timothy 3:16-17). From this we learn that no matter what problem we have with a friendship or relationship, the Bible has the answer. No matter what challenges we face at work, the Bible has the answer. No matter what issues we're dealing with at school, the Bible has the answer. The Bible has the answer to every situation a person experiences.
If this truth is not taught in homes and from the pulpit, then it's no wonder that young adults think the Bible is not relevant to their lives. It's no surprise that they are looking to sources other than the Bible for direction in their lives.
God gave us His revelation so that we are not left wandering aimlessly in this world. God has given His Son, Jesus Christ, to redeem His people from their sin. To them He has given a purpose and direction in life. We need only to open the Bible to learn what that is.
Please visit Redeemer Presbyterian Church, where you'll find the Bible is clearly taught and applied to all of life. "Oh come, let us worship and bow down; let us kneel before the Lord, our Maker!" Ps 95:6