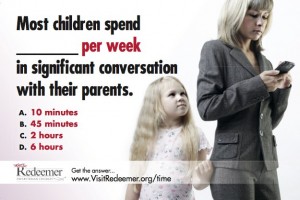 Sadly, the answer is 10 minutes.  According to statistics collected by the Southern Baptist Council on the Family, children spend an average of only 10 minutes per week in meaningful conversation with their parents.  Astonishingly, the time a child spends each week in significant conversation with his or her father can be measured in seconds!
At Redeemer Presbyterian Church, we're trying to help people learn what God says about family life.  We believe that the Bible is relevant to all of life, including what goes on inside the home.  For example, God commands parents to place the word of God in their hearts (Deut 6:6).  This means that parents are to thoughtfully and intentionally study the Bible on a regular basis.
But if you're a parent then your educational responsibilities go even further than yourself.   "You shall teach them diligently to your children, and shall talk of them when you sit in your house, when you walk by the way, when you lie down, and when you rise up…" (Deut 6:7)
God wants families to read the Bible in order to learn who He is and what He has done for His people.  God wants parents to spend meaningful time communicating with their children.  And God wants families to worship Him in all His splendor and glory.